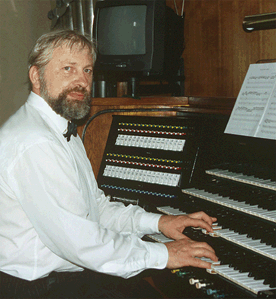 TIIT KIIK

(organ)
Born on the island of Saaremaa (Ösel). He studied the organ with Professor Hugo Lepnurm at the Estonian Academy of Music, from which he graduated in 1976. After graduation he attended a number of master courses.
He won the Peeter Süda organ award in 1999. Tiit Kiik has played many organs in Estonia as well as elsewhere in Europe and in the United States, but performs most frequently at his 'home' organ in St Nicholas Church, Tallinn.
Old music and the works of J. S. Bach occupy the most prominent place in Tiit Kiik's repertoire, but he also performs pieces from a wide range of Dutch, French, Italian, British, Swedish, Finnish and Estonian composers.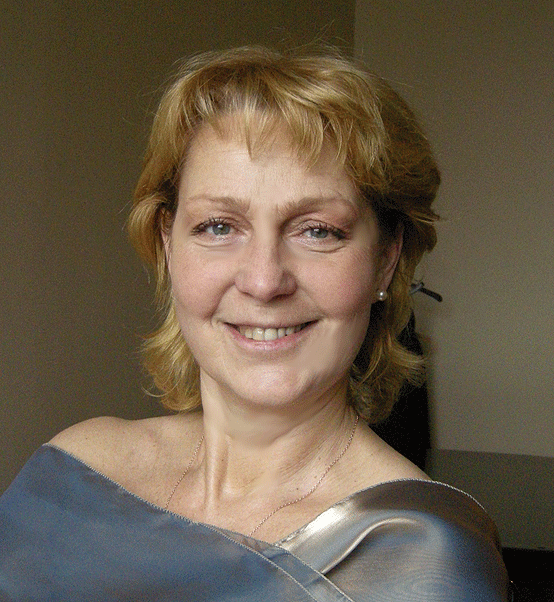 VAIKE KIIK

(mezzo-soprano)
Graduated from the Estonian Academy of Music as an opera singer (tutor Urve Tauts) in 1985. She later attended classes with professors Shen Xiang, Ly Yinwei, A. Bujanov, A. Orlovitz et al. After her debut in 1981 she has performed in operas, operettas and musicals at the Estonian National Opera. Full-time soloist at the ENO 1999-2005. She has also performed in numerous chamber and organ concerts with different artists in Estonia, Finland and England. She is at present Associate Professor of
Vocal Studies
, Head of the Music Department at the Tallinn University.
Roles: Fidalma in Il Matrimonio Segreto, Olga in Eugen Onégin, Daisy Darlington in Ball im Savoy , Sally Bowles in Cabaret, Orlovsky in Die Fledermaus, Flora in La traviata, Mercedes in Carmen, Miss Baggott in The Little Sweep, etc..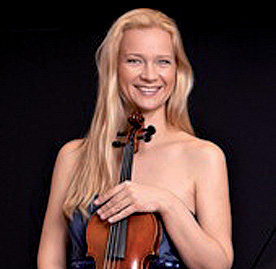 Sigrid Kuulmann
(violin)
The Estonian violinist, Sigrid Kuulmann, started her violin studies at the age of 7. She studied at the Estonian Academy of Music graduating in 1997, and continued her studies at the the Guildhall School of Music and Drama in London, at the David Oistrakh Music Academy, and at Robert Schumann Hochschule in Düsseldorf.
She is a laureate of Heino Eller International Violin Competition in Tallinn and is gaining further accolades for her performances of Estonian music, especially in Eduard Tubin's works. She has also won award from international competition in Germany. She has obtained PhD at the Estonian Academy of Music and Theatre and by now she is lecturer at the EAMT.
Sigrid Kuulmann has performed as a soloist with most Estonian orchestras as well as Kuopio City Orchestra, and has appeared as a soloist with conductors Neeme Järvi, Andres Mustonen, Andrei Chistyakov, Gregory Rose, Nicholas Smith etc. She has given recitals in England, Germany, Scandinavia, and Estonia, and has participated as a soloist in Europäisches Musikfest Münsterland and Internationales Klassikfestival im Allgäu Oberstdorfis in Germany, as well as many Estonian music festivals.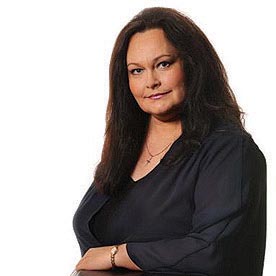 Nadia Kurem
(soprano)
Nadia Kurem has been the soloist of the National Opera Estonia since 1986, the year in which she graduated from Tallinn Conservatoire, having studied singing with Hendrik Krumm. She started teaching at the vocal studies department of the Estonian Academy of Music and Theatre in 1999 and has been the head of the department since 2009. Many of her students have since become outstanding singers. Nadia Kurem has received a number of awards - the Young Musician Award, the Harjumaa Award and the Georg Ots Award. Nadia Kurem has sung nearly 40 soprano roles at the National Opera Estonia and elsewhere. She has also given concerts in Hungary, Sweden and Finland and sung in vocal-symphonic works including Dvořák Requiem, A. L. Webber Requiem, Beethoven Mass in C major, Schubert mass in G major, Rahmaninov Bells, Orff Carmina Burana and The Christmas Oratorio by U. Sisask.
Roles: Adina L'Elisire d'amore, Antonia Les Contes d'Hoffmann, Pamina Die Zauberflöte, Violetta La traviata, Manon Manon, Mimi La Bohème, Rosina Il barbiere di Siviglia, Micaëla Carmen, Natasha Russalka, Donna Anna Don Giovanni, Lisa The Queen of Spades, Santuzza Cavalleria rusticana, Mathilde William Tell etc.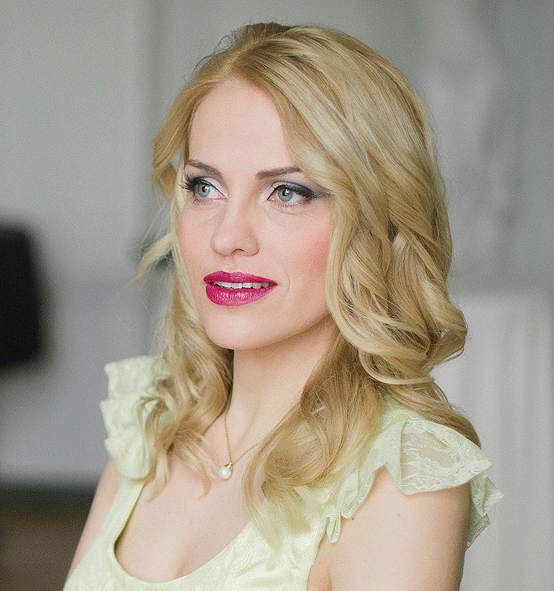 Kristel Pärtna
(soprano)
Kristel Pärtna received her Master's Degree from Estonian Academy of Music and Theatre in 2011. In 2009–2010 she studied at Sibelius Academy with Anssi Hirvonen within the Erasmus program. She was the grantee of Mati Palm Foundation in 2010 and the grantee of the NO Opera Academy in 2010–2012. In 2012 Kristel studied at Accademia del Belcanto "Rodolfo Celletti" within the PLMF Young Talents Program. She is the soloist of the Estonian National Opera since the autumn of the same year.

Roles: Her repertoire includes Verdi's Violetta La traviata, Gilda Rigoletto and Oscar Un ballo in maschera, Adina Donizetti's L'elisir d'amore, Händel's Cleopatra Julius Caesar, Armida Rinaldo, Frasquita Bizet's Carmen, Mozart's Arminda La finta giardiniera, Leonora Hindemith's The Long Christmas Dinner, Mademoiselle Silberklang Der Schauspieldirektor, Pamina Die Zauberflöte, Wagner's 1st Flower Maiden Parsifal, Clotilde Bellini's Norma. In 2012 she received the Marje and Kuldar Sink Young Singer Award.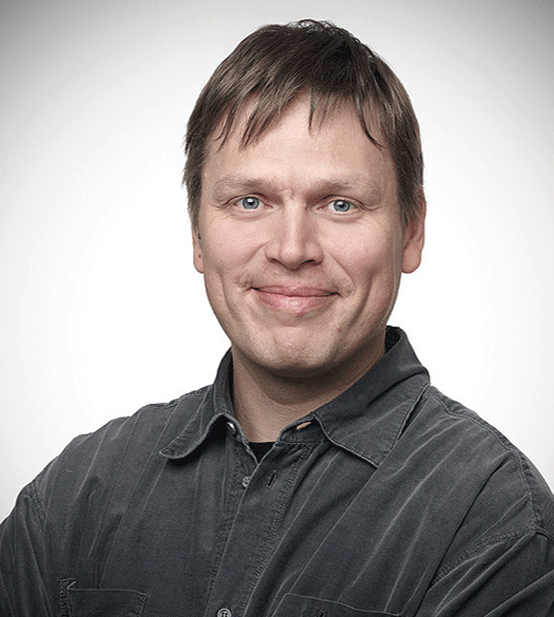 Indrek Vau
(trumpet)
He has graduated with master's degree in solo trumpet in 2001 at Sibelius Academy (prof. Jouko Harjanne). Vau has taken part in the master courses of Stephen Burns and Eric Aubier. Indrek Vau has achieved award positions at several contests: the third prize at the Estonian Brass Player Competition, finalist at the Estonian contest-festival for young musicians and the split of the second and third prize at the trumpeters' competition in Cologne. Since 2000, Vau is the principal of the trumpet group of the Estonian National Symphony Orchestra and since 2001 also a teacher at the Estonian Academy of Music.
He has performed as a soloist with the Estonian National Symphony Orchestra, the Tallinn Chamber Orchestra, the Latvian National Symphony Orchestra, the Pärnu City Orchestra, the Hortus Music Academic Orchestra and the NYYD Ensemble. In his repertoire areworks of Hillar Kareva and Harri Otsa. From the Western composers Vau gives gratest preference to Hindemith, Jolivet and Ibert.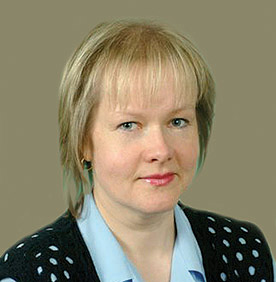 Piret Aidulo
(organ)
Piret Aidulo graduated from Tallinn Conservatoire as a teacher of music cum laude in 1987 and in 1991 as an organist. She got her Master's in organ from the Estonian Academy of Music under Professor Hugo Lepnurm in 1991.Piret Aidulo gives solo concerts and participates actively in a number of chamber music ensembles. She has performed in the UK, Germany, Ukraine, Russia and in the Nordic countries. She is working in close collaboration with the best vocal and instrumental soloists and choirs in Estonia – the National Male Choir, the Estonian Philharmonic Chamber Choir and many others. She often plays in orchestras such as the Estonian National Symphony Orchestra, the symphony orchestra of the National Opera, the Tallinn Chamber Orchestra, Pärnu City Orchestra; she has also performed with the Latvian and St Petersburg symphony orchestras. She has participated a number of times at the organ festivals in Tallinn, Pärnu and Yalta and taken part in many recording projects. She has taught the organ, the history of organ music and church music subjects in various teaching institutions. Since 1989 she has been the chief organist of Tallinn Charles' Church which is home to the biggest organ (Walcker/1923) in Estonia.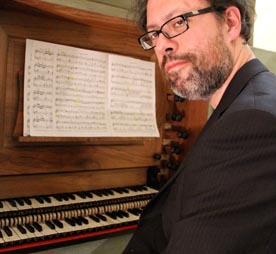 Enrico Presti
(organ)
Enrico Presti attained a diploma in Organ with Prof. Wladimir Matesic in Bologna. He obtained a degree in Computer Science with mention in the Faculty of Mathematics at the University of Bologna. He attended master classes with Marju Riisikamp, Olivier Latry, Peter Planyavsky and Hans-Ola Ericsson. He performed several concerts in Italy, Luxembourg, Switzerland Musée Suisse de l'Orgue, Faroese Islands Summartónar festival, event coordinated by Italian Institute of Culture in Copenhagen, Finland, Baltic States, United Kingdom Oxford Queen's College, France, Sweden, Austria, Russia St. Petersburg, Czech Republic, Romania, Denmark and Germany. From 1996 to 1999 he was managing director of the international concert series Organi Antichi, un patrimonio da ascoltare of Bologna; from 2002 to 2007 he was artistic director of the international concert series Musica Coelestis Ferrara and from 2003 to 2005 he was co-artistic director of concert series Al centro la musica Bologna. Actually it is currently enrolled in the Faculty of Letters and Philosophy at the University of Bologna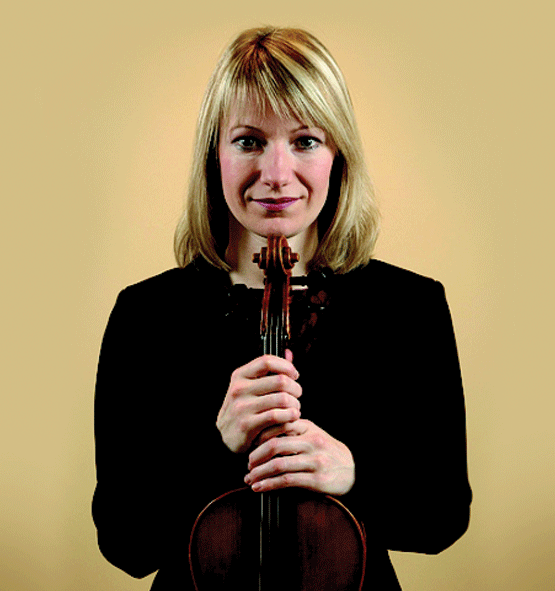 KerstinTomson
(viola)
Was born in Valjala on the island of Saaremaa (Ösel). Began to study the violin at the age of eight with Laine Sepp at the Kuressaare School of Music for Children. In 1988 continued with the viola at the Georg Ots School of Music in Tallinn, tutors Andrus Järvi, Andres Laan and Mari Aasa. Graduated from the Estonian Academy of Music in 1997, tutor Arvo Haasma.
Since 1995 has worked at the orchestra of the Estonian National Opera. Member of the Opera quartet since its foundation in 1997. Has furthered her training with Prof. Rida Talan at St Petersburg Conservatoire. Has performed with various orchestras in Estonia, Finland, Sweden, Norway, Germany and Cyprus.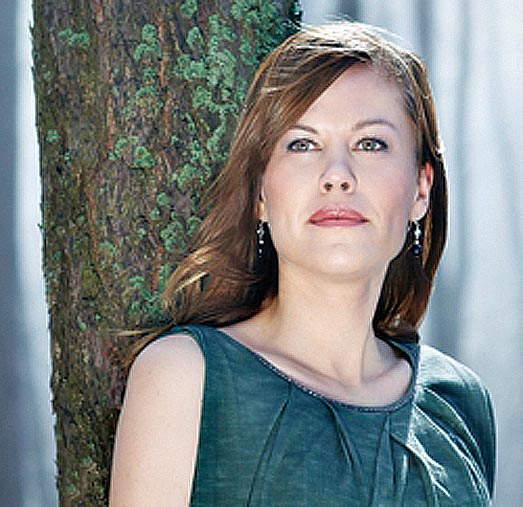 Kädy Plaas
(soprano)
Kädy Plaas graduated from Tallinn Georg Ots Music School and from the Estonian Academy of Music and Theatre with Nadia Kurem in 2014 with MA in opera singing. She was an exchange student at the Hamburg University of Music and Theatre in the singing class of Professor Kremling. She was a singer of the Estonian Philharmonic Chamber Choir and a soloist of the project theatre Nargen Opera. She has also participated in the productions of the Estonian National Opera, Theatre Vanemuine and Hamburg State Opera. Since 2004 she is voice teacher at Georg Ots Tallinn Music School. She has been awarded the Annual Prize of the Endowment for Music of the Cultural Endowment of Estonia in 2006, the Prize for Young Singer in 2007 and she is laureate of interpreter stipend of Cultural Endowment of Estonia 2008. Her wide repertoire comprises music from Baroque to contemporary music. Concert tours have taken her to Finland, Latvia, Lithuania, Germany and France.
Roles: Violetta La traviata, Gilda Rigoletto, The Queen of Night and Pamina The Magic Flute, Frasquita Carmen, Zelmira Armida, Marzelline Fidelio etc. Solo parts in vocal-symphonic works: Charpentier Te Deum, Bach Magnificat, Osteroratorium, Mozart Requiem, Rossini Petite Messe Solennelle etc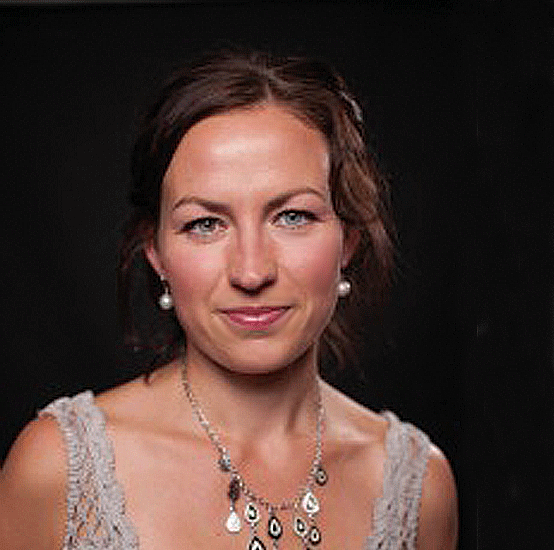 Ulla Krigul
(organ)
Ulla Krigul is one of the most outstanding young generation organists in Estonia. She has graduated from the Estonian Music High School specializing in piano (teachers M Jürisson, I Ilja) and in 2006 took her Master's at the Estonian Academy of Music, supervised by Prof Andres Uibo.
At the period of 2004–06 she studied at Universität für Musik und Darstellende Kunst in Vienna with Martin Haselböck. She produces one or two original solo programs annually, where next to Bach, Buxtehude, Bruhns, Muffat and Hindemith, an important role is played by contemporary music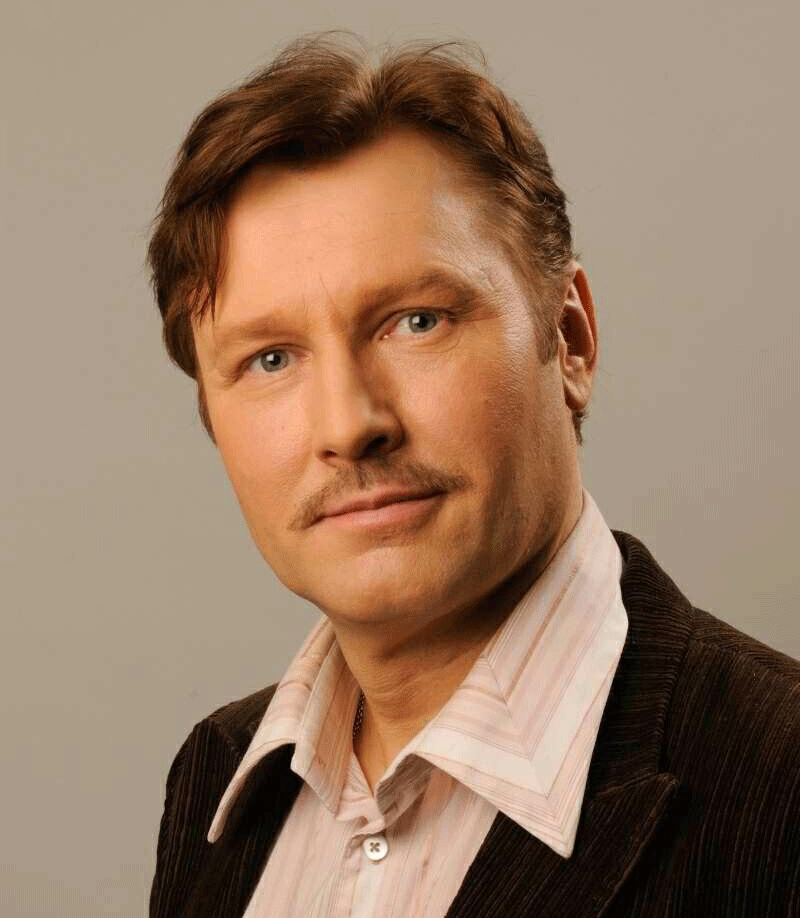 Aare Saal
(bariton)
Began singing studies with Prof. Ivo Kuusk at the Estonian Academy of Music, received an MA from the Academy under the tutorship of Prof. Virgiljus Noreika and Jaakko Ryhänen. Made his debut at the Vanemuine Theatre in Tartu, Estonia, in 1991. Attended the master classes in Italy and at the Mariinskiy Theatre in St Petersburg. Won the international contest Rossini Donizetti voices in Marsala in 1996. In 2000 won the Rigoletto role contest in Pistoia, Italy. Soloist of the Estonian National Opera since 1996. Won the Georg Ots award for his roles in 1997. Has sung over 20 opera roles and given several outstanding performances in operettas. Has given a number of solo concerts in Finland and in Sweden and performed as guest soloist at opera theatres in Latvia, Italy and Sweden.

Roles: Don Giovanni Don Giovanni, Escamillo Carmen, Germont La traviata, Figaro Il Barbiere di Siviglia, Taddeo L`Italiana in Algeri, Nabucco Nabucco etc.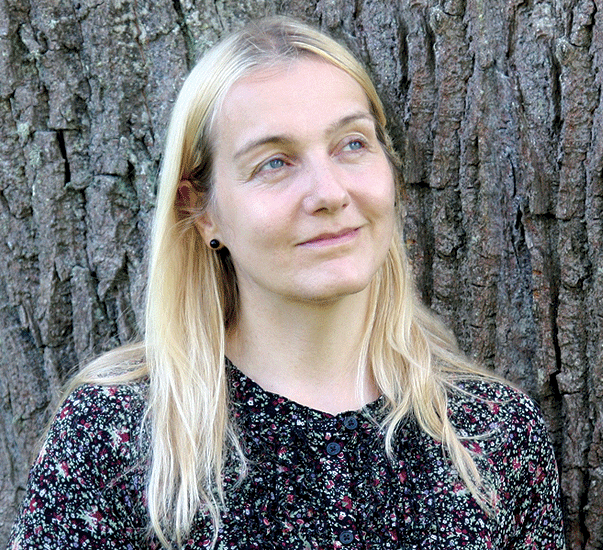 Hille Poroson
(organ)
Hille Poroson graduated 1993 from the Estonian Academy of Music and Theatre, where she studied piano under the guidance of Professor Aleksandra Juozapėnaitė-Eesmaa. In 1995 she graduated from the Estonian Church Music School, where she studied under the guidance of Estonian organist Rolf Uusväli. Hille has participated in several international master courses, including in Finland, in Germany, in France and in Spain. She studied organ in Germany at the Lübeck Academy of Music during 1999-2001, and later she continued her studies at the Academy of Music in Latvia. Hille Poroson has performed and worked with many chamber ensembles and choirs, including Estonian National Mail Choir. She has worked as organist with different soloists and ensembles and she has been the organist for several churches. Currently she is the organist at the Maarja-Magdaleena Church in Rapla and at the St Jacobs Church in Viimsi, Estonia..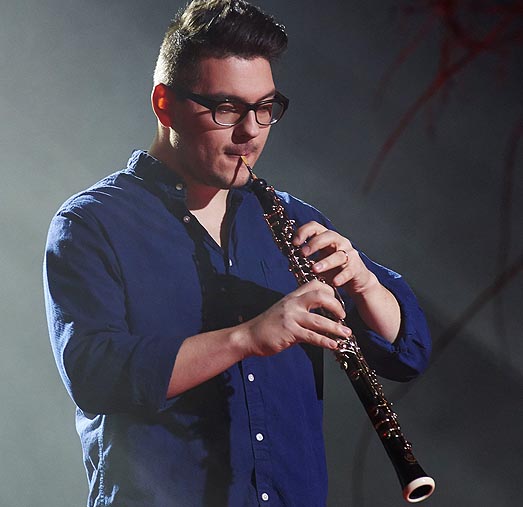 Riivo Kallasmaa
(oboe)
Riivo Kallasmaa studied oboe playing at the Tallinn Music High School with Tulike Loorits and continued under the guidance of Olev Ainomäe at the Estonian Academy of Music, graduating in 2004. In 2003, he furthered his studies at the Brussel's Royal Conservatory with Paul Dombrecht and in 2004–2005 at the Jerusalem Academy of Music and Dance under the guidance of Dudu Carmel. In addition, he has participated in various master classes with Thomas Indermühle, Han de Vries et al. At the present time, he is an oboist at the Turku Philharmonic Orchestra in Finland. He has performed as a soloist and chamber musician in the Netherlands, France, Germany, Israel, Finland etc. In 1999, he was awarded the second prize of Estonian Youth Woodwind Competition, and in 2003, the prestigious Holland Music Sessions scholarship. In 2006, he became the winner of Estonian young musicians' contest-festival Con Brio and he has been awarded the title of Tartu's Young Culture Bearer.

.